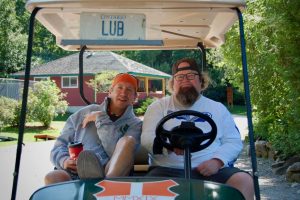 David "Lub" Latimer has been the Director of Kilcoo Camp since 1985. With his extensive experience at Kilcoo, as well as other Ontario camps as both camper and staff member, David is uniquely qualified to lead Kilcoo. He brings to this role an exceptional skill in working with campers of all ages and staff alike while being receptive and responsive to the needs, wishes and feelings of everyone in the Kilcoo community. This summer, David will celebrate his 35th year as director.
In his 'free time', David is an active volunteer in several youth organizations including The Regent Park Duke of York Children's Foundation. David also sits on the Board of Camp Awakening. He is a member of the Society of Camp Directors and in 1993 was awarded the prestigious Canada's Birthday Achievement Award presented by the City of Toronto for excellence in volunteering. Also, in January 2000, he was awarded Toronto's "Volunteer of the Year" award. In the fall of 2001, David – along with his father John Latimer, Richard Wernham, and Richard's wife, Julia West – began the huge task of founding a new independent school in Toronto. The result was Greenwood College School, opening their doors in September 2002 to grade 7 and 9 classes. The school is now grade 7 through 12 and it continues to grow. Greenwood College School grade 7s and 9s continue to visit Kilcoo each September for a school orientation camp.
David's wife Beth, an art teacher for young children, echoes his enthusiasm and commitment to Kilcoo. She provides understanding and encouragement, as the two work together for the well-being of the camp. David and Beth are the proud parents of identical twin boys TJ and Charlie, born May 2001, and daughter Brooke, born June 2003. Both TJ and Charlie will be spending their first summer on staff at Kilcoo this year, following nine-year careers as campers and two years as leaders in training. Having spent her summers as a camper at Camp Tanamakoon and a daughter at Kilcoo, Brooke too shares in her family's passion for summer camping. They all hope to welcome you at Kilcoo this summer!