A Message From the Alumni Co-ordinator
Kilcoo Camp's alumni association is a collection of over 1,000 camp staff who have worked at the camp at some point over its 92 years. All of the alumni have two things in common, that being a shared love for working with children, and the desire to maintain a connection with Kilcoo even as they move forward in their personal lives.
As alumni they receive a newsletter, the Gull Rock Gazette, twice a year with features by and about other alumni, camp highlights from the past and present, and stories by other alumni, many of which are unavoidably massaged to augment actual memories. By maintaining their contact with Kilcoo many alumni are able to reconnect with former friends, and in smaller groups they might assemble for ski trips, golf tournaments, pub nights, canoe trips and get togethers at one another's cottages. Many alumni young and old also support the camp's number one charity, the Amici Camping Charity, which was created by the camp staff in 1964 and for the past 58 years has sponsored children to attend summer camp who would otherwise be unable to benefit from the experience of camp. In 2023 over 250 children were provided with this opportunity. In 2020 because summer camps could not operate, Amici directed funds to families of supported campers to allow them to participate in alternate activities during the summer. Since then funds have again been directed to "camperships" and also to support families in other ways.
Without a doubt the highlight for many alumni are the weekend reunions held at the camp in September once every three years. The 2022 reunion saw over 150 alumni get together by the shores of Gull Lake for a spectacular weekend. Camp activities, great meals and an even better singsong dominated the weekend which included a flag lowering and a Sunday chapel service. Many of those in attendance have been attending reunions for as long as they have been held and stated this was the best one yet. Plans are already in motion for the next reunion in September 2025. A date will be posted on the camp website when it is finalized.
To get a flavour of what being part of the alumni association is all about, look through the gallery of pictures from previous reunions that has been posted here and take a look at past issues of the Gazette also available on this alumni page. The camp website also displays some items available through the "Tuck Shop" and a large map (36"X24") of the camp property is also available if you are looking for keepsakes from your camp experience. If you are not presently on our data base and wish to be, send me an e-mail at pchamp@sympatico.ca and keep updated on all our news. If you only attended Kilcoo as a camper but wish to get connected again, we will welcome you.
Paul Chamberlain
(1956-67)
Alumni Coordinator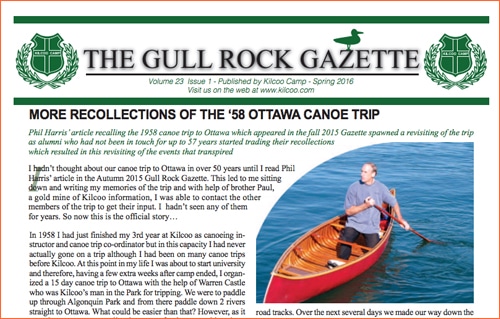 Camp Office
Kilcoo Camp Ltd.
150 Eglinton Avenue East, Suite 403
Toronto, Ontario M4P 1E8
Tel (416) 486-5264
Fax (416) 486-3854
Camp Address
Kilcoo Camp
10735-10737 Hwy #35
Minden, Ontario K0M 2K0
Tel (705) 286-1091
Fax (705) 286-1206